306 Removing the dashboard and instrument panel
REMOVAL - REPLACEMENT INDICATOR PANEL
1 - REMOVAL
Disconnect the battery.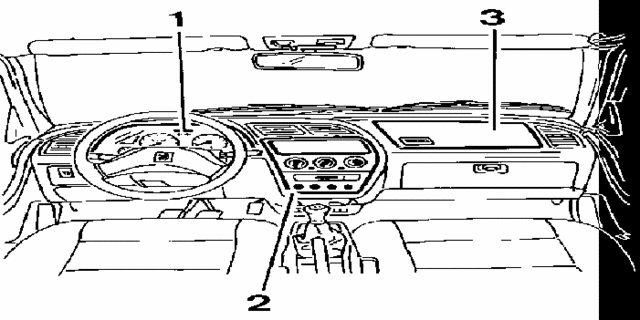 Unscrew:
windscreen wiper mechanism combi instrument panel (1) center (2) front glove box (3) fuse box cover casings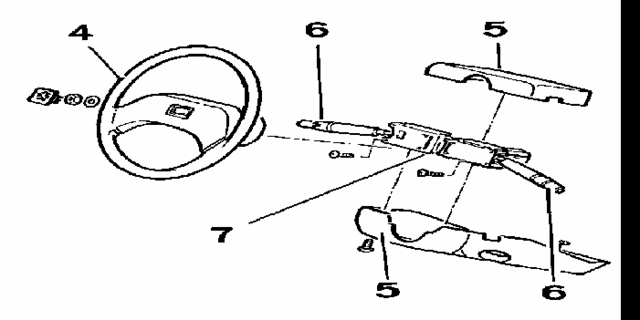 Unscrew:
steering wheel (4) steering column covers (5) Remove the hooks (6) of the electric control cables.
Remove the support (7).
Remove the anti-theft cable hooks on the steering wheel.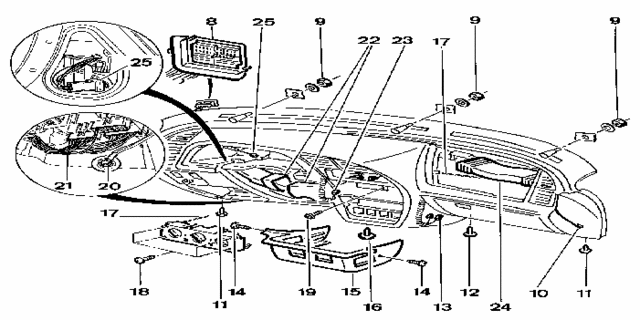 Unscrew:

connector (8) holders (9) Disconnect the antenna cable (10).

Unscrew:

the holders (11) the holder (12) Unhook the electrical connection (13).

Unscrew:

holders (14) cover (15) holder (16) Disconnect the cable (17).

Unscrew:

the holders (18) the holder (19) the ground wire (20) Unhook the electrical connection (21).

Remove the ventilation ducts (22) from their slots.

Disconnect the connector (23).

Split:

Air pipe (24) fascia (pull out) Disconnect the wires of the contactor (25) (Wear protective gloves).

Remove the cable (17) from inside the upper glove box.

Remove the instrument panel.

2 - REFITTING

IMPERATIVE: before attaching the dashboard, position it against the centering pins.

Plug in the connector (8).

Attach the brake contactor (25) (Use protective gloves).

Attach the ventilation ducts to their slots.

Pass the indicator chest to the centering pawns.

Tighten the holders (starting from the top).

Follow the removal steps in reverse order.

Your tight:

connections (9) connections with a torque value of 0.65 meters (11) connections with a torque value of 1 meters (19) with a torque value of 0.8 meters and a steering wheel fixing nut from 3.5 meters

Haşim Ayaz hasimayaz@gmail.com



Haşim Ayaz hasimayaz@gmail.com



Hit : 7684